We have recently discovered The Good Registry, a new gift registry that recognises that perhaps we don't need loads of new material items given to us when we get married.  Instead both you and your guests can gain some karma by giving a little to a good cause.
To give us the low-down on what The Good Registry is all about and how it works, we chatted with Christine Langdon, one of its co-founders.
What inspired you to set up The Good Registry?
We know how hard it is for people to choose good gifts, so we wanted to help - and we wanted to give people a way to help good causes at the same time. The Good Registry gives people a simple way to celebrate their special occasions without receiving stuff they don't especially want or need, and to feel good about helping good causes at the same time.
We're helping people to use their special occasions to change the world - which we think is a very good way to celebrate!
How has the response been so far?
We launched 'softly' in November and our main focus was on Christmas. We had a great response to Christmas (about 60 people creating registries!) and we had our first wedding registry created earlier this year.
We have heard from some of the first people who created registries about how simple it was, and how good it felt to see the difference they were able to make. They've told us that seeing the good they did definitely outweighed any downside of not receiving gifts.
A few children have used The Good Registry for their birthdays and they have felt really proud about the good they've done, which has been really nice to see. And for their parents, they have really liked that their children haven't received a whole lot of stuff they don't need or won't ever use.  So it's a great experience at any age or stage!
What kind of charities can people donate to? 
The Good Registry has more than 50 charities that people can choose from. There are charities that help children and families, and animals and the environment - a real mix. And if a couple would like to create a wedding registry but  the charity they would like to give to isn't on The Good Registry, they can contact us and we will see if we can add that charity just for them.
(Article continues below...)
A small selection of some of the charities available to choose from.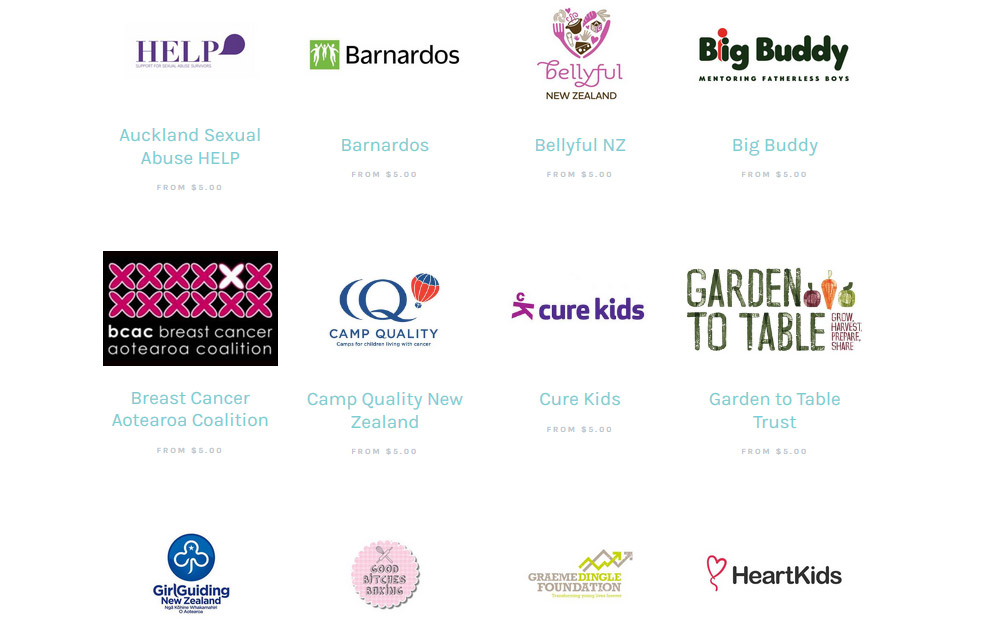 Who decides which charity the donations go to?  The couple who sets up the registry or the guest?
The couple choose - so it's just like any other wedding registry, except they're choosing from our wonderful charities instead of consumer products. We're here to make it easier to give good gifts - which means gifts that are wanted - so that's why we think it is important that it's the couple that chooses to do the charitable registry, and that they choose the charity.
Let's be honest - who doesn't love getting nice presents when getting married.  Do you think that people will be willing to forego the sparkly presents and instead give to a charity?
Definitely!
We're all about good gifts, so we are not here to take anything away from people who want and need those sparkly new things.  However, we also know that there are a lot of people who don't need anything when they are getting married - often they have been living together for a while or are getting married later in life or for the second time, and they're set up with everything they need. Rather than asking for 'no gifts' or for cash gifts for themselves, they'd often like to do something meaningful and memorable that will have a lasting benefit for others.
Before we set up The Good Registry we'd heard of quite a few couples that had informally asked for donations instead of gifts. The Good Registry takes that a step further by giving those couples a registry page that their guests can donate through, where everyone can see and feel excited about the cumulative value of the gifting, and where guests can leave a special message with their gift.
And if couples would like to give guests the option of either gifts or charitable donations, they can also include The Good Registry as part of a mix - so it doesn't have to be all or nothing.
We've also seen charitable registries growing in popularity for weddings overseas - and we're expecting lots more interest after Prince Harry and Meghan recently announced that they'd like charitable donations, not gifts for their wedding!
Is there a minimum donation amount or are people free to give what they want?
The minimum gift amount is $1, so if there are children coming to your wedding maybe even they could give $1 for every year of their age!
People can gift any amount they choose - there is no maximum.
Presumably there are some administration costs involved in running The Good Registry - how much of the donations get to the charities?
At this stage 90% of the gifted amount goes to the charities and 10% covers administrative costs, which includes the credit card transaction fees as well as technology building and hosting, support for users and the charities, marketing so that people know about us, and all admin. As we grow, we hope to increase the amount going to charities and reduce the service fee but in the meantime, 10% is still a very small portion relative to the usual costs of fundraising for charities.
This seems like an easy way to give to a charity - do you have to create a registry to donate or can anyone just go on the website and donate?
We currently have two ways people can donate. You can create a registry, not just for weddings but for any special occasion that you would be likely to receive gifts for (engagements, baby's first birthday, anniversaries, anything!). Or you can buy Good Gift vouchers , which can be redeemed by the recipient as a donation to one of our 50 charities. Both options give the gift recipient the choice in who the donation goes to.
To view all of the available charities and set up your registry, head to thegoodregistry.com