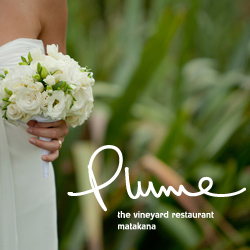 Extraordinary occasions call for extraordinary places…
Just 50 minutes from Auckland, Plume is an enchanting setting for a wine country wedding.
Whether you're planning an intimate affair or grand event, let us offer you the highest level of flexibility, service, and care so you can relax and concentrate on creating amazing memories.
Weddings take on a special atmosphere at Plume with its stunning vineyard, garden and valley views. We see the most important day of your life as our utmost priority and would love to help turn your dreams into reality, smoothly and flawlessly.